FULL INSPECTION OF PAPER ROLLS AND PALLETS
Every production process is aimed at maximizing the output of good produce and clearly blocking goods of poor quality before shipment. This kind of quality assurance is realized here visually. Roptec GmbH played a decisive role in the development of this product and sells this solution on behalf of the manufacturer.
100 % inspection
The roll inspector inspects the entire goods issue. This ensures that the valuable margin is not used up when correctly produced goods are damaged during transport or handled improperly.
EARLY DETECTION OF CUTTING AND PACKAGING ERRORS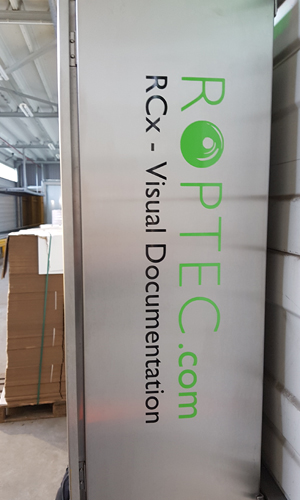 Due to the optical evaluation of both front sides of the paper roll the following evaluations can be made:
Print image / Labeling / Ink spraying on front side

Surface quality / Packing quality

Web breaks / Protruding webs / Sheets

Tilting by defective palletizing (with sheet material / pallets)
This way the following production parameters can be prompted and production errors discharged:
Sleeve displacement

Winding geometry / Packing geometry

Product size / Geometry
General
Supported by industrial image processing, the roll inspector provides the profile geometry of rolls and pallets with values true to scale. By indicating threshold value information, corrective measures can be directed automatically. Print recognition and barcode verification ensure that the content of the goods is detailed correctly.
Flexible industry standards
The adaption to different industry standards ensures complete integration into existing production processes. The Zems roll inspector can address different machine interfaces, such as Profibus® or EtherCat®. The cameras are connected in accordance with the latest and flexible GigE standard.
Low maintenance and lowest operating costs
In particular quality control systems are characterized by the fact that they record the real product quality permanently and reliably so that the quantity can be compared and made available to the various stakeholders. Therefore, with non-stop production the reliability combined with a low maintenance level is a key factor for acceptance for all parties involved.
The design of the roll inspector is designed without movable components. Latest LED lighting systems provide for low power consumption and long service life of the light sources. The other components are practically maintenance-free and merely require regular cleaning, depending on the dust formation in the surrounding area. This leads to astonishingly low maintenance, which again means low operating costs.